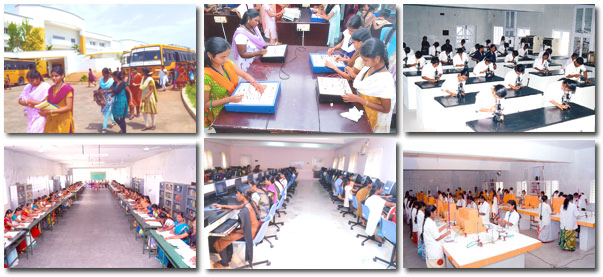 Peaceful Atmosphere
The college campus situated in a calm and quiet locate, with its beautiful landscaped and carefully tended gardens, provides an ideal environment for a congenial learning experience.
Library
Our college library is well equipped in terms of the number of books and current journals subscribed. Apart from catering to the need of its faculty and students.
Laboratory
Well equiped separate lab facilities with latest technology for all science Departments to train the students to meet the real world practical skill.
Internet
The computer Lab has 65 systems LAN connected BSNL broadband with 2Mbps. The centre provides scanning and printing facilities. The centre is accessible for both staff and students. ILL provision (Data Circuit) is also Available in the computer Lab.
Hostel
Highly Hygenic environment in and outside the rooms.
Good ventilation and lighting
24 hours water supply
Hygenic bath rooms with separated drying rooms for clothes
individual study facilities
Guest rooms
Telephone facilities
Canteen
Spicy Tea, Chilled Cool Drinks with Crispy Snacks available in all working days